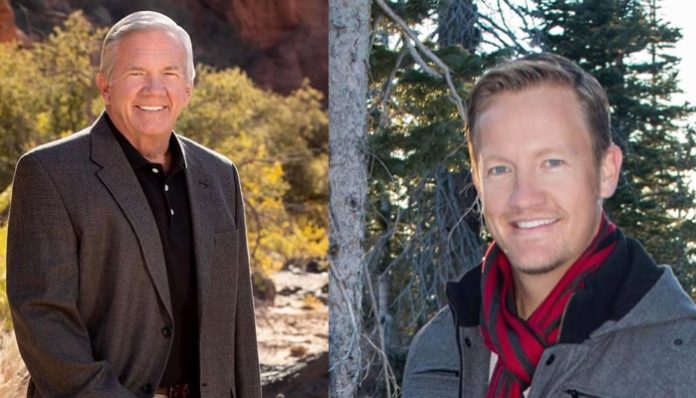 IRON COUNTY, Utah, Sept. 17, 2021 (Gephardt Daily) — A father and son who died after a single-vehicle rollover in Iron County early Sunday morning have been identified as the son and grandson of former Utah Governor Norman Bangerter.
Norman Bangerter served as the 13th governor of Utah from 1985 to 1993; he passed away in 2015.
The two victims of the crash have been identified as Garret Bangerter, who was Norman Bangerter's son, and Brandon Bangerter, who was Norman Bangerter's grandson.
"At approximately 6:59 a.m., troopers responded to a single-vehicle rollover in the area of mile post 71, I-15 southbound," said a statement from Utah Highway Patrol.
"A Toyota Tundra occupied by two males, a father and adult son, drifted off the left side of the roadway, corrected back to the right and rolled off the west side of the interstate."
The pickup truck came to rest between I-15 and Old Highway 91, and was not visible by passing motorists until daylight, the statement said.
"The driver, the father, was not extremely coherent, but told first responders they had been there since around 2 a.m.," the statement said. "The passenger, the son, sustained fatal injuries and was deceased when first responders arrived."
Garret Bangerter was transported in serious condition, but died Thursday.
Landon Bangerter, whose uncle is Garret Bangerter, posted on Facebook: "This has been such a hard week for my family. Early Sunday morning, my uncle Garret N. Bangerter and his son, my cousin Brandon Bangerter were involved in a car accident that immediately took my cousin's life, and just this morning my uncle died of complications from the accident.
"It always hurts when someone you love dies, but it seems to hurt a lot worse when it's so sudden and unexpected. But I can't imagine how their wives and kids feel right now. I don't even want to try.
"I loved these two men. These were men that loved just about everyone. Everyone who knew them knew just how great people they were. They loved the Lord and loved the gospel, and it was obvious how much it positively affected them and those around them.
I'm thankful for eternal families. Without the knowledge of eternal families, this would surely sting so much worse. But it's pretty comforting to know that death isn't the end and that through Jesus Christ, we're able to see each other again someday.
"Please send your thoughts and prayers over to Garret and Brandon's wives and kids. They need it more than me, that's for sure. See you in the next life."
Gephardt Daily will have more on this developing story as information is made available.