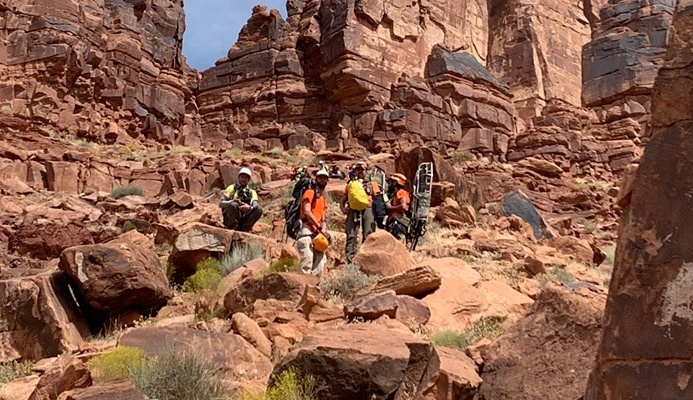 GRAND COUNTY, Utah, Sept. 23, 2019 (Gephardt Daily) — Multiple agencies responded to aid a climber who injured his hip Monday when he swung into a wall.
Grand County Search and Rescue said in a Facebook post Monday evening that two climbers were heading up the Infrared climbing route on the Big Bend Towers above the Colorado River when one of them was injured.
"He called 911 while still 300 feet up the Wingate sandstone wall," the post says.
Classic Air Medical responded but could not find a safe landing zone on the steep, loose rocks near the base of the climbing route, so the Department of Public Safety helicopter, which has a hoist, was requested, but ultimately was not needed.
The injured climber rappelled to the base, where he was met by medical and rescue personnel.
"He refused a litter and 'crab crawled' hundreds of feet down the talus," assisted by Grand County EMS and Grand County SAR, the post says.
"GCSAR's Technical Rope Rescue team was preparing to do a steep angle technical lower if necessary. GCEMS provided a Mega Mover at the base of the talus slope to transport the patient to his personal vehicle."
The injured man was then taken by his climbing companion to St. Mary's Hospital in Grand Junction, Colorado.
Those who responded on this rescue were four members of Grand County EMS, one Canyonlands National Park Ranger, three Grand County Sheriff's Office deputies, 10 Grand County Search and Rescue members, a Utah Highway Patrol trooper, Classic Air Medical, and a
Utah Department of Public Safety helicopter crew.
"It is our honor to work alongside these professional teams," GCSAR said in the post.
This was the 104th incident of 2019 for Grand County Sheriff's Office SAR Division.