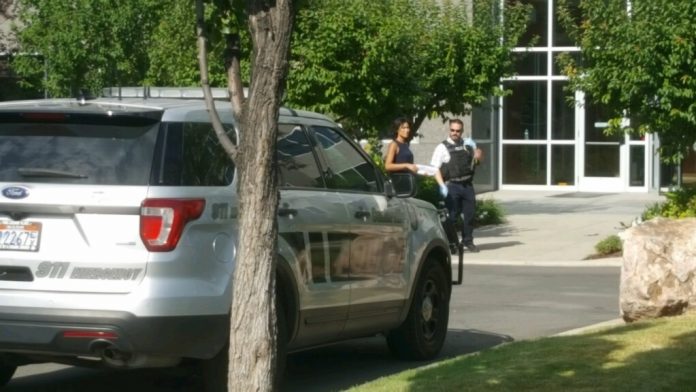 CENTERVILLE, Utah, July 12, 2018 (Gephardt Daily) — At least three people have been arrested at a protest against Immigration and Customs Enforcement at Centerville's Management & Training Corporation building, police said Thursday morning.
A statement from the Immigration and Customs Enforcement protest group "ICE Free SLC" said: "A group of Utah community members are taking nonviolent direct action at MTC in Centerville, to highlight the private prison contractor in our own backyard profiting from the detention, deportation, and ultimate separation of immigrant families."
Lt. Zan Robison, public information officer for Centerville Police, told Gephardt Daily officials got a call at approximately 7:45 a.m. Thursday that the group was not allowing people in and out of the MTC at 500 N. Market Place Drive. As well as handcuffing themselves together, Robison said some of the doors to the building have also been chained. The group is also yelling chants and being "verbally aggressive," Robison said. Some are in the lobby and others are in the basement of the building.
"We have some reports that some of the doors have been chained," Robison said. "We were able to get the majority of people out, however there are still some people inside. We don't have any reason to believe they're in any danger. So far they've been rather peaceful, they've been verbally aggressive towards some of the people going in and out, however they have not been physical at this point."
He said the group was initially around 25 people, but that then dwindled to around eight to ten people.
"We do encourage people to protest, where they want to protest, other than private property; they need to do it in a legal place," Robison said. "Our first amendment right is something we all enjoy; we encourage them to do that, but it needs to be done in a legal place. They have been asked to leave, they are trespassing currently, and we are working with them, and trying to get a peaceful resolution."
Bountiful and Farmington Police and Davis County Sheriff's Office officials, as well as Utah Highway Patrol, are also on the scene assisting Centerville police.
Robison added that the protesters had demanded that police officials join their protest, and handcuff themselves with them. "We remain neutral when it comes to politics," he said.
The arrested protesters may be facing trespassing charges.
The statement from the protesters continues: "We're demanding an end to the national political and economic infrastructure, including ICE, that criminalizes immigrants, people of color, the poor, and other marginalized communities; and call our community into action to resist the expansion of immigrant detention and deportation in our own region and across the country."
Media liaison for the protesters Taylor Goldstein told Gephardt Daily the group consists of "concerned local community members that wanted to take a stand today."
"The MTC's business is to manage and operate prisons," Goldstein said. "They profit from the more people that are in jail, also operate immigrant detainment facilities across the country, the newest one that they are trying to build is just 80 miles away in Evanston, Wyoming, and that is in the planning stages.
She said some of the group were willing to risk arrest, while others just wanted to be supportive, and had left earlier.
"We wanted to stop business as usual, we wanted to show how important this was to us by risking arrest, and risking our freedoms," Goldstein added. "It's important to bring attention to this and hold people accountable."
She said other protests are being planned.
Gephardt Daily will have more on this developing story as information becomes available.