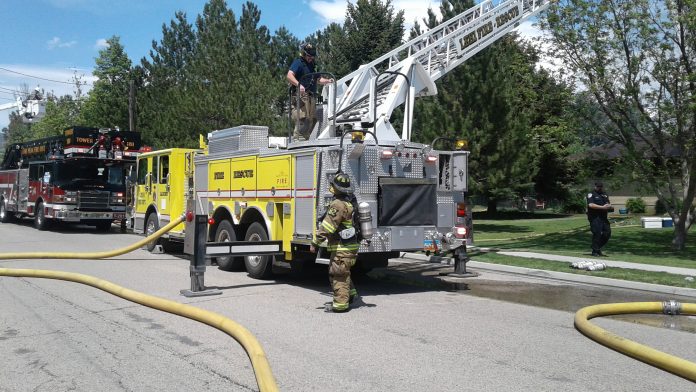 LEHI, Utah, May 25, 2017 (Gephardt Daily) — A Lehi home owned by a West Valley City firefighter caught fire Thursday afternoon, and the blaze was knocked down by the Lehi Fire Department and the Lone Peak Fire District.
"We know that the fire started in a room down in the basement," said Battalion Chief Rick Howard, of the Lehi Fire Department.
"The basement became totally involved, and the fire lapped up the back side of the house. It blew out a window and went to the attic."
Firefighters arrived when the attic was involved, Howard said.
"Our guys did a tremendous knock down, were able to save most of the attic," he said.
No humans were injured, "but there may have been a bird in the basement that didn't make it."
A 12-year-old boy briefly unaccounted for was found safe, Howard said.
The cause of the fire and the monetary amount of damage are still being determined, he said.