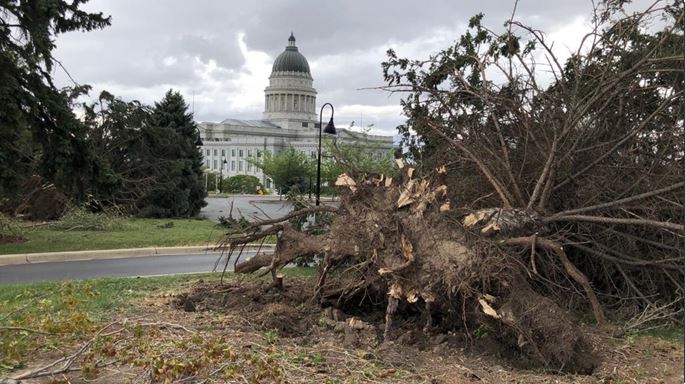 SALT LAKE COUNTY, Sept. 8, 2020 (Gephardt Daily) — Salt Lake County Mayor Jenny Wilson has offered an update on efforts to meet residents' needs and make repairs during the ongoing windstorms.
The hurricane-force winds, which began Monday night and are expected to return Tuesday night through Wednesday morning, have been recorded at more than 110 mph.
The winds also arrived with a cold front, andmore than 58,000 Utahns — primarily in Cache, Weber, Davis and Salt Lake counties — lost power as a result of the storm. For many, the loss of power means a loss of heat in their homes.
Warming centers locations for the general public to use in Salt Lake County will be at Northwest Recreation Center, 125 W. Clark Ave., and at the LDS Church at 808 E. Roosevelt Ave., both in Salt Lake city; at Millcreek Community Center, 2266 E. Evergreen Ave., Millcreek; and the LDS Church Stake Center, 3650 W. 4400 South, West Valley City.
The warming centers also will have electricity for use by people who need to run medical devices and machines.
In addition, a warming center to focus on the needs of homeless people will be set up at the Sorensen Center, near 1388 West and 900 South. That center will be run by volunteers from The Church of Jesus Christ of Latter-day Saints.
Wilson also urged Salt Lake County residents to stay home if possible because about 100 or so traffic lights have lost power. The intersections are now running as four-way stops, she said.
A spokesman from Rocky Mountain Power said some areas could be without power for 48 to 72 hours while repairs are made.
Lt. Gov. Spencer Cox, who spoke at the same news conference, said the governor is considering declaring a state of emergency, and that the danger and damage are not over. Salt Lake County also is considering declaring a state of emergency, and Centerville already has.
Mayor Clark Wilkinson has signed a declaration of emergency for the city of Centerville, according to the Centerville Police Department.
Several speakers urged people to not go out and clean up yards because it is not yet safe. Downed power lines may be live, but may not be sparking, so could go unnoticed, raising the risk of accidental electrocution.
Joe Dougherty, spokesman for the Utah Department of Public Safety, said that 45 semis have overturned due to the high winds. That's a new record for Utah, he said, and has added to the danger of everyone on the roads.
Staying home is the safest plan, both because of high winds and the debris those winds kick up.
Wilson also urged people with downed trees to delay cleanup, both because of power line danger and because there are likely to be more trees and debris to clean up Wednesday morning anyway. Some trees that are currently unstable could be knocked down by the coming winds, she said.