SALT LAKE CITY, Utah, May 2, 2019 (Gephardt Daily) — The genie is out of the bottle and his magic is spellbinding.
The Broadway tour of "Disney's Aladdin" is playing at Salt Lake City's Eccles Theater, and it's hard to imagine a more dazzling production.
From the jeweled costumes to a gold-filled treasure cave, the sparkle is everywhere. Women twirl in richly colored, belly-baring costumes, and men strut in chest-baring vests and loose-legged pants.
Expect comical chase scenes, sword swallowing, intricate choreography and fireworks of the literal and figurative varieties.
This is a spectacular.
Starring as Aladdin, a former thief who promised his late mother to do better, is Clinton Greenspan. He's affable and big-hearted, and sings in a fluid voice that seems to hit every note without effort.
Kaenaonālani Kekoa plays Jasmine, the Sultan's daughter disguised as a peasant when she meets and captures the heart of Aladdin.
But stealing the show time after time is the jovial Genie, played by Major Attaway, who also played the role on Broadway. His comic timing is dead on.
Dampening the mood only slightly are the power-hungry schemer Jafar, played with delicious flair by Jonathan Weir, who played "The Lion King"'s Scar on Broadway; and toady Iago, played by Reggie De Leon, who also played the role on Broadway. Jerald Vincent, a veteran of Broadway, film and television, plays the Sultan.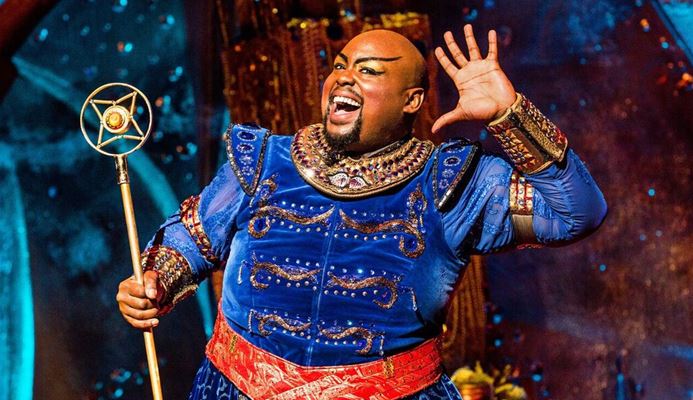 Without buying a plane ticket, you really won't get any closer to seeing a Broadway show than this. The musical is both child- and adult-friendly, and seemed to leave its opening night audience impressed and even a little stunned by the extravaganza.
And days later, this reviewer is still trying to figure out how that magic carpet flew without any visible evidence of wires.
The show, with music by Alan Menken, lyrics by Howard Ashman, Tim Rice and Chad Beguelin and book by Beguelin, is directed and choreographed by Casey Nicholaw. Those dazzling costumes are by Gregg Barnes, with set design by Bob Crowley.
To check it all out for yourself, see this Broadway at the Eccles Production at the Eccles, located at 131 S. Main St. The show runs through May 12. For theater and ticket information, click here.