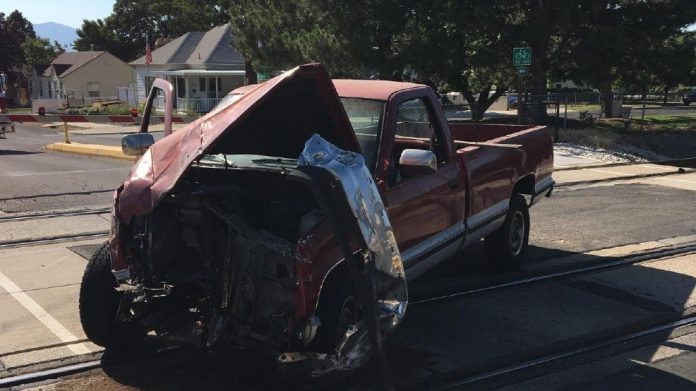 SANDY, Utah, July 24, 2016 (Gephardt Daily) — Sandy Police Department officers responded to a crash Sunday afternoon after a pickup truck drove through crossing guard arms and hit a TRAX train.
Sandy Police Lt. Troy Arnold said the crash occurred at 4:55 p.m. near 8800 S. 165 East, near the Historic Sandy UTA station.
Arnold said a TRAX train was traveling southbound when the pickup truck, traveling westbound, failed to stop at both crossing lights and crossing guard arms that were in the down position.
There were no injuries to either the driver of the truck or anyone on the TRAX train, Arnold said.
He added that impairment did not appear to be a factor, so police are unsure at this point why the driver did not stop for the TRAX train.
Arnold said the southbound train line is likely to be down until approximately 9 p.m. Sunday, but there is a bus picking people up and transporting them from Sandy to Midvale.
The TRAX line is functioning normally north of Midvale and south of Historic Sandy stations.