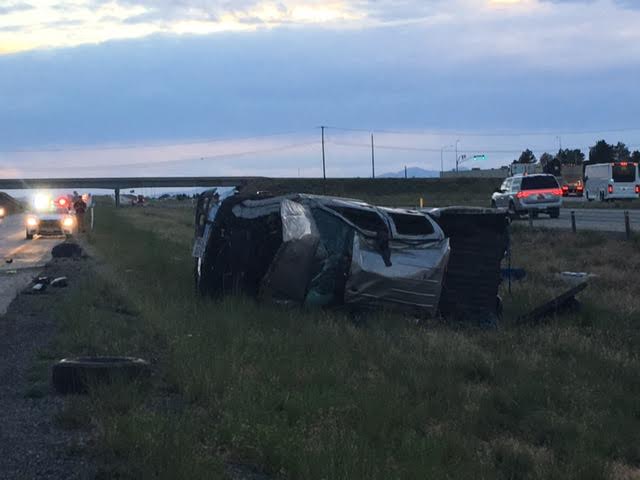 SALT LAKE CITY, Utah, June 14, 2016 (Gephardt Daily) — Two 16-year-old girls from Ohio were ejected in a rollover crash on I-80 in Salt Lake City Tuesday Night.
Utah Highway Patrol Sgt. Mary Kaye Lucas said a 36-year-old man and the two teens were headed east on I-80 near 5600 West just after 8 p.m. when the accident happened.
"The driver said that he felt something shift in the rear of the truck, possible his motorcycle, and attempted to over correct," Lucas said.
"The driver unfortunately over corrected too much and rolled into the median."
"The male driver was wearing his seat belt and was able to walk into the ambulance," Lucas said. "The two females did not appear to have been wearing theirs, and were both thrown from the vehicle during the rollover."
The driver told troopers he did not realize the girls had not yet put on their seat belts after stopping recently for a break. He said they usually wore their safety belts.
"One of the teens, the driver's daughter, was taken to the hospital by ground ambulance in extremely critical condition," Lucas said.
"The driver and the other teen were also take to the hospital by ground ambulance, but their injuries are not considered life threatening."
Lucas said any time there is a major crash, UHP investigators will do a reconstruction of the scene. The road is expected to be closed for several more hours.
Travelers headed east on I-80 are being diverted off the 5600 West exit and back onto I-80 at the 5600 West on-ramp.
With the 100 deadliest days of summer here, Lucas said there are many more people than usual taking road trips.
"When you are traveling long distances, people have a tendency to want to get more comfortable and take their seat belts off and get comfortable in the vehicle. As you can see, this is a classic example of how that did not work in their favor," Lucas said.
"While you're traveling, watch your speed, wear your seat belts and watch your traveling distance. Anything you can do to keep yourself safe, we would appreciate it."