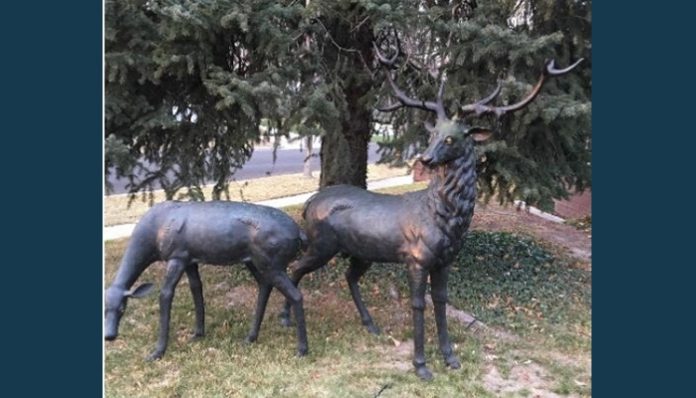 SALT LAKE CITY, Utah, Jan. 29, 2019 (Gephardt Daily) — Salt Lake City Police officials have named a person of interest after a pair of bronze deer statues were stolen from a residential area in Sugar House.
The statues were taken from the area of 1400 E. Stratford Ave., the Salt Lake City Police Department said in a news release on Facebook. The theft occurred between Monday, Jan. 14 at 9 p.m. and Tuesday, Jan. 15 at 4:30 p.m.
Officials previously released photos of the deer statues, as well as two persons of interest and a possible suspect vehicle, a green SUV.
The police department tweeted Tuesday: "A #PersonofInterest has been identified in the statue #Theft. We are looking for Taylor Loveless, 28. Do you know where he is? We want to talk with him about acquiring art in a unscrupulous manner. Case number 19-8691."
Loveless is shown in surveillance footage wearing a dark jacket over a white shirt and maroon pants.
The other person of interest is shown in a surveillance photo wearing a black baseball hat with a red logo, a gray hoodie with a tan jacket on top and gray sweatpants. That person has not yet been identified.
"An attempt has been made to sell the cut down statues to a metal recycler," the post said, but the statues are still outstanding.
Anyone with information is asked to call the SLCPD on 801-799-3000 and reference case number 19-8691. To remain anonymous, text crime tips to 274637. Start the text with the keyword TIPSLCPD (which routes it to SLCPD), then a space, followed by the relevant information or photos. Reference: crimetip.