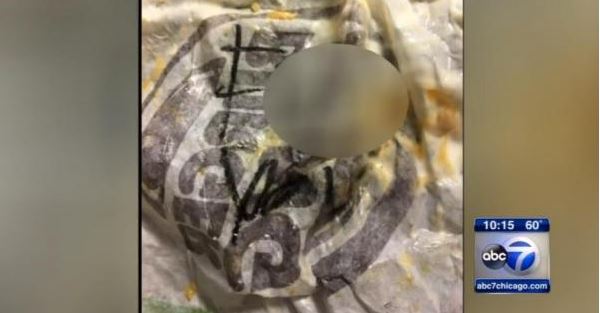 NAPERVILLE, Ill., Oct. 4 (UPI) — An Illinois couple said they felt doubly insulted when a Burger King manager refused to hear their complaints about profane messages written on their wrappers.
Nancy and Martyce Murphy said they took home their recent order from the Burger King drive-through in Naperville and were preparing to eat when they noticed both of their sandwich wrappers had been marked with the same expletive.
Nancy Murphy said she called the restaurant and received nothing but denials from a manager.
"I told him what had happened and he said, 'I don't believe you, there's no way that could have happened,'" she
told WLS-TV
.
Murphy said she spoke to a higher-up supervisor Monday and later learned Monday afternoon that an employee had admitted to writing the messages and had been fired. The supervisor said the worker told officials they were having a bad day and took it out on the customers with the profanities.
The couple said they still feel insulted by the company.
"To just shrug it off and you're in management and to say 'I think you're lying' or 'I don't believe you,' I think that's most insulting," Nancy Murphy said.
Profane or insulting messages have been found on receipts, as one Starbucks customer in St. Augustine, Fla., discovered when his bill included the message, "Diabetes here I come."
Starbucks apologized to the customer and said employees would receive additional training to ensure this would not happen again.