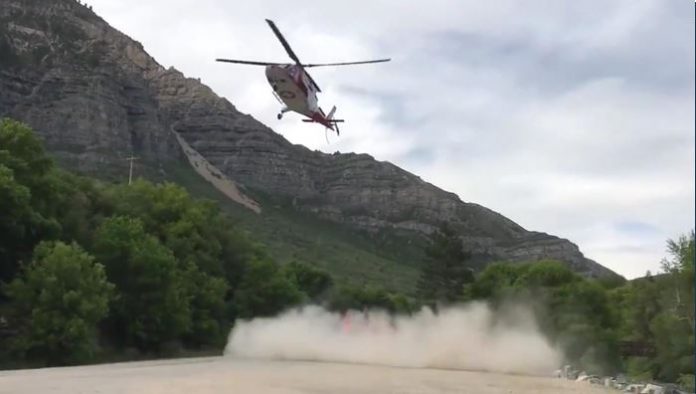 For an updated story, click here.
UTAH COUNTY, June 12, 2019 (Gephardt Daily) — Safety crews and a LifeFlight helicopter have been called to the scene of a fallen hiker with head injuries at Bridal Veil Falls.
Sgt. Spencer Cannon, Utah County Sheriff's Office, said crews were expected to reach the hiker, a 17-year-old boy, a little after 7 p.m. on Wednesday. The accident was reported a bit more than an hour earlier, he said.
Cannon estimates the boy fell about 1,200 feet above ground level on the rock face of Bridal Veil Falls. He is between the falls, Cannon said.
"He's in a very difficult place to access," Cannon told Gephardt Daily just before 7 p.m. "It's going to require technical skills to get to him, and technical climbing gear. LifeFlight is on the way with a hoist. If they can't get to him, it's going to be several hours, and it could be longer."
The teen was conscious, Cannon said, but "is having some blurred vision, and is getting a little cold because of the shade and the water up there."
Cannon tweeted at 7:05 p.m. that LifeFlight had landed. See the video below. At 7:10 p.m. Cannon tweeted that SAR crews had reached the teen.
Gephardt Daily will have updates as more information becomes available.
LifeFlight with hoist has landed. First SAR teams almost arrived with the patient. pic.twitter.com/weTWFzuRir

— Spencer Cannon (@SGTCannonPIO) June 13, 2019