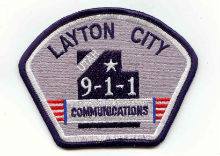 Domestic Dispute Ends in Stabbing of Neighbor
LAYTON, UTAH – June 5, 2015 (Gephardt Daily) Police in Layton responded early this morning to a domestic dispute at the Quail Cove Apartments that ended with the neighbor, who was helping the victims, being stabbed.
According to police, 29 year-old Hector Lazaro was arguing with his mother at their apartment the argument escalated when Lazaro armed himself with a knife and disabled the mother's phone.
The mother, first warned the suspect's adult brother to lock himself in the bathroom and call 911 then fled to  neighbors apartment to try and call for help.
Lazaro went after the mother to the apartment of a neighboring family acquaintance and unlawfully entered her residence. During an ensuing  argument with the 53-year-old neighbor, Lazaro stabbed her in the chest.
The suspect then returned to his apartment and attempted to break down the bathroom door where his brother was hiding but was unsuccessful in getting into the room.
When officers arrived, the suspect was found back in his bedroom, and was taken without incident into custody.
The stabbing victim was flown to University of Utah Medical Center, where she is currently in stable condition with a non life-threatening injury. The mother and brother were not injured.
Lazaro has been booked into the Davis County Jail for attempted homicide, aggravated burglary, domestic violence aggravated assault, domestic violence interruption of a communication device, domestic violence criminal mischief and domestic violence assault.
The suspect's mother and brother have requested they not be identified or contacted.
The case remains under investigation.