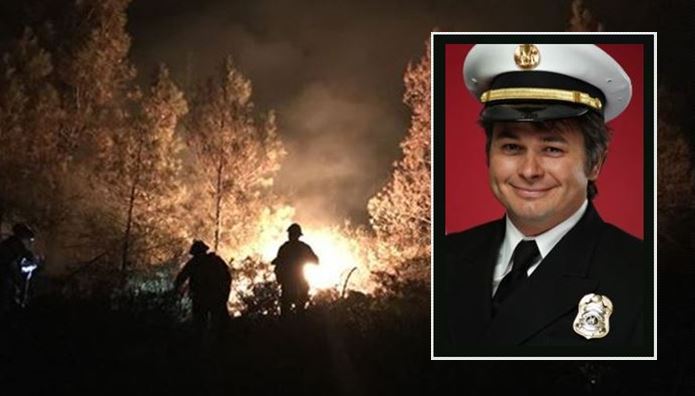 For a related story, click here:
DRAPER, Utah, Aug. 14, 2018 (Gephardt Daily) — Tributes are pouring in for Draper Battalion Chief Matthew Burchett, who lost his life while fighting the Mendocino Complex Fire in northern California.
"Matt worked with us for over 20 years, and we are devastated and heartbroken by his loss," said Chief Dan Peterson, Unified Fire Authority.
Burchett was badly injured Monday night when he was hit by a falling tree. He was treated with advanced life-saving techniques at the scene, according to Draper City officials who spoke at a noon news conference, the third of the day.
Within 40 minutes, Burchett was transferred to the Ukiah Valley Medical Center, where he was later declared dead.
Burchett was a longtime expert in the area of wildland firefighting.
"He had an incredible wealth of knowledge and experience in this area," Peterson said.
"We've all been better off for his efforts," Peterson said. "We are truly missing a great man who has given his life to the community he served."
UFA's Assistant Chief Mike Watson said the department — which Burchett left for Draper in May of this year — was in mourning.
"This is a hard day," Watson said. "If you know Matty affectionately, you called him Matty, so that's what I'll call him… He was one you noticed quickly. He had a gleam in his eye, and a grin you could not look at without grinning back.
"He trained and kept safe hundreds of wildland firefighters. He got firefighters out of situations that were pretty grave. He was amazingly skilled. He was thinking days ahead, that's how good he was," Watson said.
"Matty had many, many, many friends, and I am only one of them. He helped keep many, many, many firefighters safe, and I am only one of them."
Watson said Burchett set a great example to his peers.
"He was special. His footprints are all over this county, this state, and other states," he said of his longtime coworker.
"I can see his footprints, and I hope to be able to follow in them."
Utah Governor Gary Herbert has ordered flags be flown at half-staff in honor of Burchett. He also released a statement:
"Jeanette and I were heartbroken when we learned that Fire Battalion Chief Matt Burchett died fighting the California wildfires. When he left with his fellow firefighters to battle the wildfires in California we were so proud of his service — now his heroism leaves us both proud and devastated.
"He gave everything to defend the lives of others. By so doing, he exemplified the greatest love and bravery of which humans are capable. We mourn for his dear wife and son. They are in our hearts and in our prayers."
Various Utah fire departments also have posted tributes.
"Our hearts are heavy as we mourn with our Draper Fire family. Our deepest condolences on the loss of Battalion Chief Matthew Burchett. Our thoughts are with all of you today." — West Valley City Fire Department
"Our hearts are heavy as we have learned that a firefighter from Utah was killed in the Mendocino Fire Complex in California. May his family and crew-members find peace in their time of loss and suffering." — North Tooele Fire District
"EM City sends our heartfelt condolences to the family, friends, and colleagues of Battalion Chief Matt Burchett of @drapercity Fire and formerly with @FireAuthority who was killed in the line of duty helping fight the #MendocinoComplexFire in CA. #Hero" — Eagle Mountain City Twitter