Nordic Auction Giant Sells 'Fake' Pop Art to Unknowing Customers
SØBORG, Denmark, May 13 (UPI) — The largest online auction house in Scandinavia, Lauritz.com, has been accused of selling fake Andy Warhol prints.
A small team of journalists and investigators from Swedish news programSVT looked into several tips about fake prints being sold on the site and discovered surprising details.
In order to gather evidence, the team bought two Andy Warhol pieces described as "original prints," one of David Hockney and the other of Mick Jagger. Both were advertised as authentic prints created using hands-on techniques like lithography.
After receiving the prints, SVT turned them over to experts. The Hockney print is stamped with the prestigious Carnegie Museum of Art in Pittsburg label, but one expert said it was probably made with an inkjet printer. The museum denies ever having or publishing the prints.
The Mick Jagger print claims to have been created in 1975, but printing technique expert Roger Johansson says it must have been made using screen printing method not invented until at least the 1980s.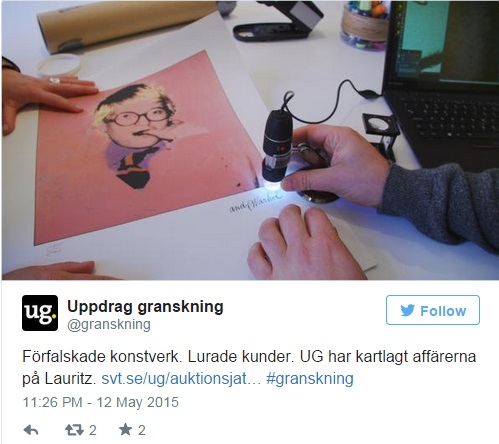 Lauritz has reportedly sold over a hundred copies of the Jagger print, SVT said. CEO Mette Rode Sundström insists that they are original, but simply described incorrectly.
Concerning the Hockney print, Sundström said: "It is a false stamp. We were actually aware of the stamp and our experts have been looking out for it over the past year. Therefore it is quite sad and also embarrassing that we have sold these counterfeits."
Swedish news site The Local reports that Lauritz.com has contacted the police about the seller believed to be behind the forgeries and has taken down 36 items from the website.