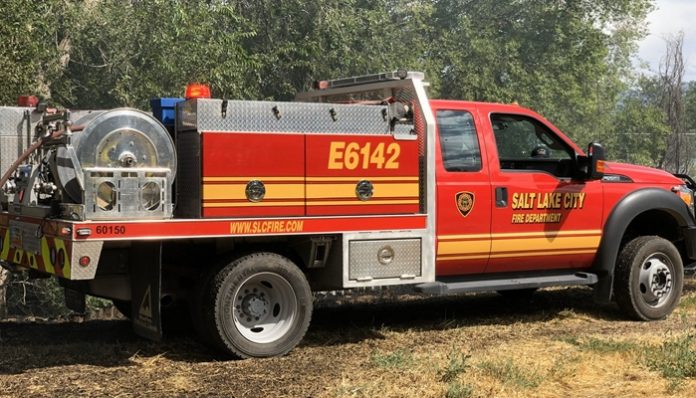 Utah, Oct. 28, 2019 (Gephardt Daily/UPI) — Salt Lake City and Unified crews will be joining Lone Peak and Provo in deploying to California to assist with fighting multiple wildfires, officials announced.
A tweet from Salt Lake City Fire Department Monday morning said: "SLC Fire will be deploying a team of 12 members and several wildland type 6 apparatus to assist California with wildfire operations. It is anticipated that crews will leave tomorrow with a two week deployment. More info to come."
Just minutes after, Unified Fire tweeted that its crews will also be participating in California's EMAC (Emergency Management Assistance Compact) request.
"Crews are expected to mobilize and depart tomorrow a.m. (location unknown)" the tweet said. "Number of firefighters and apparatus are also unknown at this time. We will make notifications when we have more info."
A tweet from Lone Peak Fire District Sunday evening said its wildland crew has safely arrived in Sonoma, California and has been assigned to Division B at the Kincade Fire.
"We wish them well and hope for their speedy return," the tweet said.
An earlier tweet Sunday from Lone Peak said: "This morning Lone Peak Fire District deployed three personnel to California. We would like to thank Deputy Chief Evans, and Firefighters Willden and Pollock, as well as their families, for taking the time to help our neighbors in need."
Provo Fire and Rescue also posted on Facebook Monday: "Brush 21 has arrived safely in California and is ready to work! Stay safe!"
California Gov. Gavin Newsom declared a state of emergency over the weekend as a number of wildfires burned across the state.
A brush fire began near downtown Los Angeles early Monday, the city fire department said, and immediately burned at least five homes. The blaze has now grown to more than 500 acres and is threatening 10,000 structures, due to strong winds, authorities said.
Crews are calling it the Getty Fire, because it is threatening the city's famous Getty Center museum, which overlooks the western part of downtown Los Angeles. The cultural center opened in 1997 and is equipped with multiple systems designed to protect it from fire, including more fire-resistant weeds on the grounds surrounding the center.
Authorities have issued mandatory evacuations to 3,000 homes and shut down parts of the 405 freeway, a main commuter artery that stretches from north of Los Angeles into Orange County. It comprises the northern section of the San Diego Freeway. Some of the city's most exclusive and wealthy neighborhoods are in the fire zone.
The Getty Fire is one of several burning across the state.
The Kincade Fire in Sonoma County has burned about 55,000 acres so far and is still burning mostly out of control, authorities said. Sonoma County is famous California wine country located just north of San Francisco. The Soda Rock and Field Stone wineries were totally destroyed by fire. The flames have destroyed nearly 100 structures and put 80,000 others are at risk. The blaze was just 5 percent contained early Monday. The fire has led authorities to evacuate more than 180,000 residents.
Pacific Gas & Electric said it is planning more blackouts Tuesday and Wednesday, over what it called "severe wind events." The scheduled blackouts follow others that have affected millions of California residents so far this month. The strategy is aimed at mitigating the risk of equipment failure and wildfire.